ANTI ARRYTHMIC DRUGS
Used to prevent recurrent arrhythmias and restore sinus rhythm in patients with cardiac arrhythmias.
Drugs are classified based on their electrophysiological effect on the myocardium. They are associated with severe adverse effects, primarily due to their proarrhythmic effects on the myocardium. Patients who have received an intravenous antiarrhythmic should be monitored closely with serial ECGs. Several classes of antiarrhythmics, including beta blockers, calcium channel blockers, amiodarone, cardiac glycosides, and lidocaine, also have other medical uses, which are discussed in tabulated form below.

All antiarrhythmic drugs are also potentially proarrhythmic! Intravenous administration should only be performed with continuous cardiac monitoring!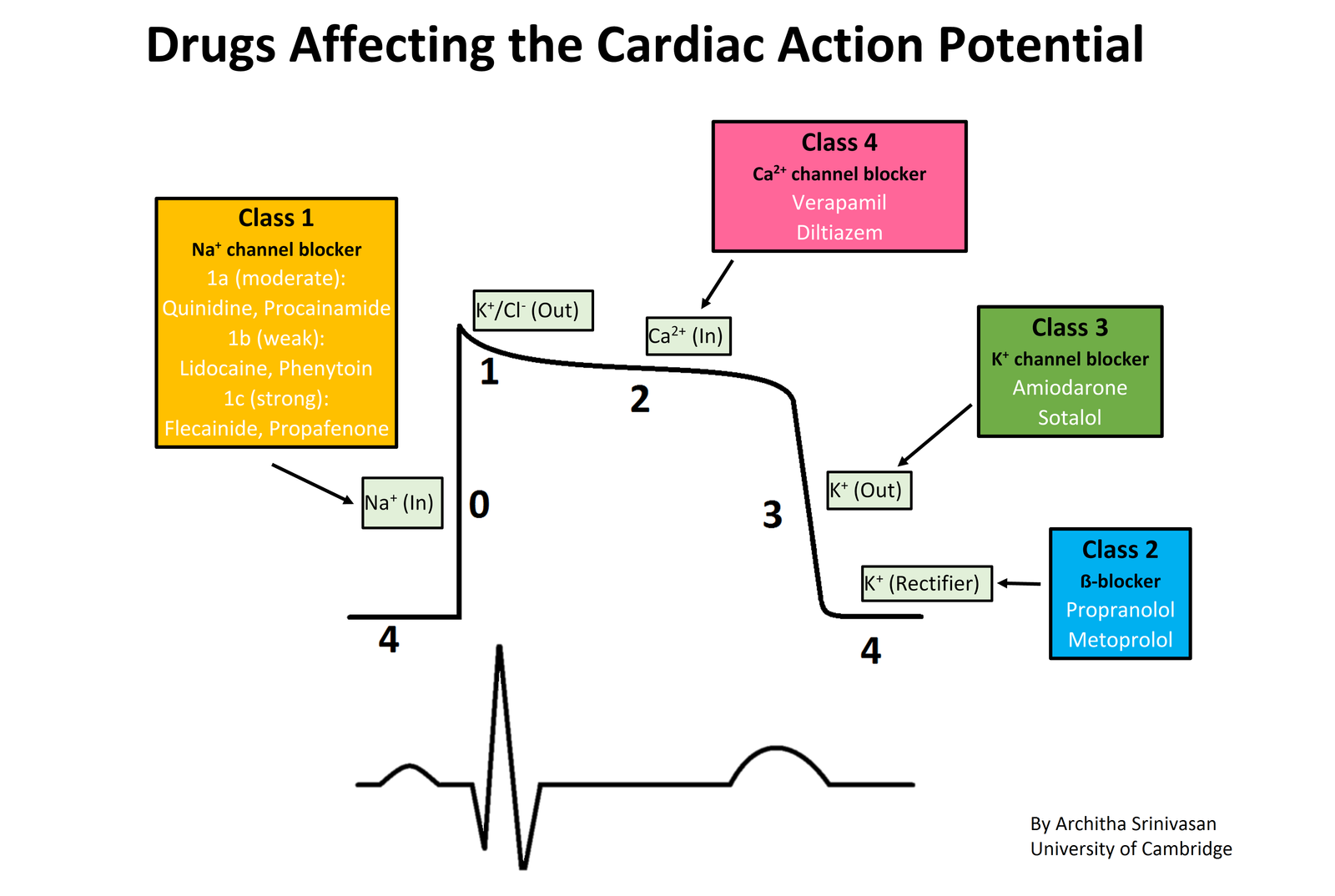 Other Antiarrhythmic Drugs
Adenosine
Mechanism of action: activates Gi protein → inhibition of adenylate cyclase → ↓ cAMP → deactivation of L-type Ca2+ channels and activation of K+ channels → ↓ Ca2+ and ↑ K+ entry → hyperpolarization → transient AV node block → acute termination of supraventricular tachycardia
Indications
Diagnosis and termination of certain forms of paroxysmal supraventricular tachycardias (e.g., AVNRT and orthodromic AVRT)
Diagnosis of underlying AFib in supraventricular tachyarrhythmias
Adverse effects
Chest pain, flushing, hypotension, bronchospasm
Sense of impending doom
AV block
Asystole
Contraindications
Pre-excitation syndromes: antidromic AVRT, WPW
AV block
Asthma
Avoid adenosine in patients with suspected pre-excitation tachycardia (e.g., WPW), because it may exacerbate the tachycardia via accessory pathway routes
Digoxin
Mechanism of action: inhibits Na+/K+-ATPases → higher intracellular Na+ concentration → reduced efficacy of Na+/Ca2+ exchangers → higher intracellular Ca2+ concentration → increased contractility, decreased heart rate
Indications
AFib
Atrial flutter
Chronic systolic heart failure
Cardiac glycosides.
Magnesium sulfate
Mechanism of action: decreases calcium influx → prevents early afterdepolarizations (EAPs)
Indications
Torsade-de-pointes
Refractory ventricular tachyarrhythmias (e.g., polymorphic VT)
Eclampsia
Constipation
Tocolysis
Adverse effects
Hypotension
Asystole
Drowsiness
Flush
Loss of reflexes
Respiratory depression
If-channel blocker
Drug
ivabradine
Mechanism of action
Selectively inhibits If channel in the pacemaker cells of the SA node → prolongs slow depolarization (phase 4) → slows heart rate
Indications
Symptomatic stable coronary heart disease and congestive heart failure (NYHA II-IV) in patients who cannot tolerate beta blockers
Adverse effects
Vision changes
Bradycardia
Hypertension