Introduction
Epilepsy is the condition characterized by Recurrent episodes of seizures
Seizures result from Episodic electrical discharges in cerebral neurons associated with prolonged depolarization during which sustained, high frequency repetitive firing occurs, followed by prolonged hyperpolarization.
Goal of Drug is to Restore Normal Patterns of Electrical activity
Epilepsies classification
1. Generalized seizures
A. Generalized Tonic- Clonic seizures
Major Epilepsy
Commonest
Last for 1-2 mins
Unconsciousness & Tonic Spasm followed by clonic jerking & depression of all CNS function
B. Absence Seizures
Minor Epilepsy
Last for 1/2 min
Momentary Loss of consciousness & patient freezes and stares in one direction.
Little / no bilateral jerking.
C. Atonic Seizures
Akinetic Epilepsy
Unconsciousness with relaxation of all muscles.
D. Myoclonic Seizure
Shock like momentary contraction of a single muscle.
E. Infantile spasms
In infants
Most typical epilepsy
Muscle spasm
Progressive Mental Deterioration
2. Partial Seizures
A. Simple Partial Seizure
Cortical focal Epilepsy
Lasts for 1/2 to 1 min
No loss of consciousness
Convulsions are confined to a particular area of cortex
B. Complex Partial Seizure
Temporal lobe epilepsy
Attacks of Bizarre & confused behaviors
Emotional changes
Purposeless movements
Lasts for 1-2 min
Aura (feeling & Seizures) often precedes
C. Simple Partial / Complex Partial Seizure Secondarily Generalized
Partial Seizure occurs first and evolves into Generalized Tonic-clonic with loss of consciousness
Drug Classification
Mechanism of Action
These drugs act via various mechanisms –
Decreased axonal conduction by preventing Na+ influx through fast Na+ channels – Carbamazepine, Phenytoin
Increased inhibitory tone by facilitation of GABA mediated hyperpolarization- Barbiturates, BZDs
Decreased excitatory effects of glutamic acid – Lamotrigine, Topiramate (blocks AMPA Receptors), Felbamate ( blocks NMDA Receptors)
Decreased Presynaptic Ca2+ influx through type-T channels in thalamic neurons – Valproic acid & Ethosuximide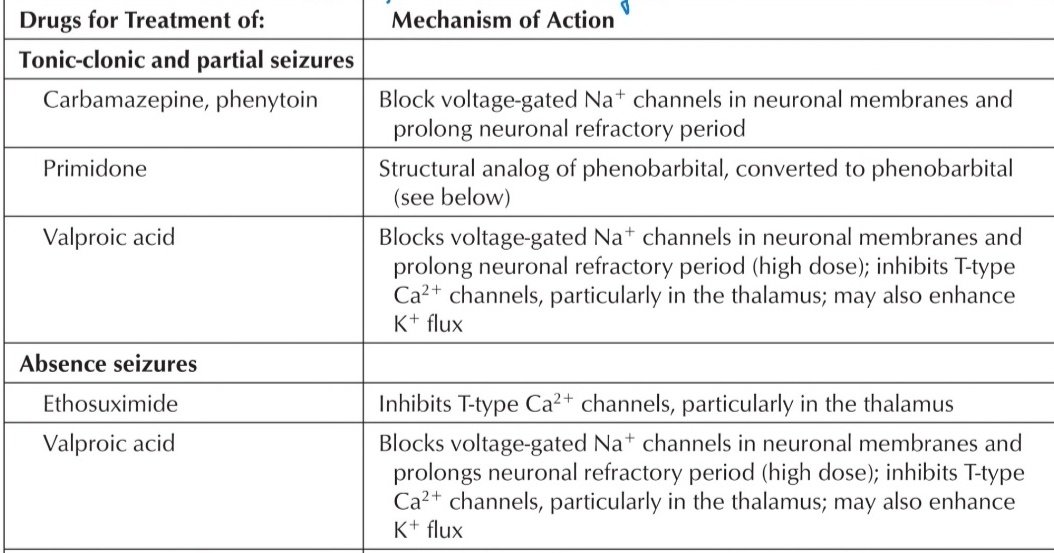 Important Antiepileptic Drugs
1. Phenytoin
Mechanism –
Blocks axonal voltage gated Na+ channels → Prevents seizure propagation
Pharmocokinetics –
Variable absorption
Nonlinear Kinetics
Induction of cytochrome P450
Zero-order Kinetics
Uses –
GTCS
Partial Seizures
Status Epilepticus
Trigeminal Neuralgia (Non Epileptic Use)
Side Effects –
CNS Depression
Hirsutism
Osteomalacia
Gingival Hyperplasia
Megaloblastic Anemia
Hypersensitivity/ Allergy
Contraindications –
 Myoclonic Seizure
Absence Seizures
2. Carbamazepine
Mechanism –
Blocks axonal voltage gated Na+ channels → Prevents seizure propagation.
Uses –
GTCS
Partial Seizures [DOC]
Trigeminal Neuralgia [DOC]
Mania & Bipolar Disorder
Diabetes Insipidus
Pharmacokinetics –
Side effects –
CNS Depression
Osteomalacia
Megaloblastic Anemia
Aplastic Anemia
Exfoliative Dermatitis.
Increased ADH Secretion (Dilutional hyponatremia)
Cleft Lip & Palate
Spina bifida (if given to pregnant mother)
Hepatotoxic
Allergy (Steven Jenson's Syndrome/ Toxic Epidermal Necrolysis)
Contraindications –
Myoclonic seizures
Atonic Seizure
Absence Seizures
3. Valproic Acid
Enzyme inhibitor
Mechanism –
Blocks axonal voltage gated Na+ channels → Prevents seizure propagation.
But also inhibition of GABA Transaminase (increases GABA levels)
Blockade of T-Type Ca2+ channels
Decreases Glutamate levels
Uses –
GTCS
Absence Seizures
Myoclonic Seizure
Dravet Syndrome
Tardin Dyskinesia
Mania & Bipolar Disorder
Migraine Prophylaxes
Status Epilepticus (Used iV)
Pharmacokinetic –
Inhibits cytochrome P450
Side Effects –
(MNEMONIC – VALPROATE)
V = Vomiting, Nausea (most common)
A = Alopecia, curling of hairs
L = Liver toxicity
P = Pancreatitis
R = Rashes
O = Obesity
A = increased Ammonia
T = Teratogenic (causes Neural Tube Defects), Thrombocytopenia
E = Enzyme inhibitor
4. Ethosuximide
Mechanism –
Blockade of T-type Ca2+ channels in Thalamic neurons
Uses
Absence Seizures
Ethosuximide is drug of choice in children(<2yrs)
Other Ant seizure Drugs
1. Lamotrigine
Blocks Na+ channels & Glutamate Receptors
Also T type CCB
Used in Various Seizures
Side effects – Stevens – Johnson Syndrome (Rashes)
These are safer in pregnancy [NOT TERATOGENIC]
2. Levetiractam :
Mechanism – SV2A inhibitor
Used in focal Onset & Generalized Tonic-clonic seizures.
Safe in pregnancy
3. Topiramate
Block Na+ channels and glutamate Receptors (AMPA blocker)
Enhances GABA Activity.
Also mild carbonic Anhydrase inhibitor
Uses –
In focal seizures in adults & children > 2 years.
Migraine prophylaxis
Decreasing craving in Alcoholics
Obesity
4. Felbamate
Blocks Na+ channels and glutamate receptors (NMDA blocker)
Used in Partial Seizure
Side effects is Aplastic Anemia.
5. Gabapentin
Uses –
Seizure states
Neuropathic Pain
Post herpetic neuralgia
Side effect – Sedation
6. Zonisamfde
Na+ channel blocker, T type Ca2+ Channel blocker
Also Carbonic Anhydrase inhibitor
Used in Seizure states
Side effect is Renal Stone formation
7. Locasamide
Na+ channel blocker
CRMP2 Protein inhibitor
8. Vigabatrin
Inhibits Transaminase
Used in treatment of infantile spasms with Tuberous Sclerosis
Side effect is leads to Visual impairment
9. Ezogabine
K+ channel opener
Used to treat Partial Seizure
10. Barbiturates & Benzodiazepams
They block the GABA receptor
Example –
Clonazepam – Absence Seizures
Lorazepam – Status Epilepticus
Carbamazepine – Partial Seizure etc.
FINAL SUMMARY
#Know more about seizures from "THIS LINK".
#We Partnered with Achievable.me. Check out their website for awesome study content.