MOLAR PREGNANCY
DIAGNOSIS –
From History –
H/O  amenorrhea of 8-12 weeks.
Usually comes in 1st trimester with most common presentation – Brown bloody vaginal bleeding.
H/O  expulsion of grape like vesicles per vaginal.
Initial features are suggestive of pregnancy but no quickening.
Lower abdominal pain (due to expulsion/ overstretching/ hemorrhage/ infection/ perforation).
Patient feels sick and complains of vomiting.
Rarely with features of thyrotoxicosis/ dyspnea.
On clinical Examination –
General Features :
Signs suggestive of early pregnancy.
Pallor present due to hemorrhage.
Features of Iron deficiency anemia/ Pre-eclampsia.
Per Abdominal Examination :
Height of fundus is more than POA (Period of Amenorrhea) in most of the cases.
The feel of uterus is firm, elastic.
Fetal parts – Impalpable.
Fetal Heart Sound – Not audible.
No fetal Movement.
External Ballotment – (-ve).
Per Vaginal Examination :
Internal Ballotment – (-ve).
Blood stained discharge/ Frank Bleeding.
Unilateral/ Bilateral enlargement of ovaries.
Vesicles may be felt if os is open.
From Investigation –
Complete Hemogram – Hb%, TC, DC, ESR, ABO & Rh Grouping.
USG Abdomen – Charecteristic Snowball appearance, Absence of fetal parts, Cyst in Ovary.
Serum and Urine Beta-HCG Level – Elevated than normal level (Rising Beta-HCG >100000mIU/L is suggestive).
Straight Xray Abdomen – To rule out fetus (-ve Fetal shadow).
Straight CXR (PA View) –  To rule out evidence of pulmonary embolization.
Liver, Renal and Throid Function Test – When indicated.
Histopathological Examination of the expelled vesicles – No chorion, no amnion, no fetal tissue, all villi are abnormal, degenerated with fluid filled vesicles, no blood vessels in complete mole.
THE D/D OF H. MOLE ARE –
Threatened Abortion
Fibroid/ Ovarian tumor with pregnancy
Multiple Pregnancy
These are rule out by USG Abdomen and Beta-HCG Level.
MANAGEMENT –
Resuscitation if needed.
Early Diagnosis and Suction Evacuation as early as possible.
Supportive therapy to correct anemia – IV Infusion with ringer lactate solution, Blood transfusion, Parental Antibiotic.
For further assessment, patient are grouped into 2 groups –
Group A – The mole is in the process of expulsion
Group B –  The uterus is inert and closed os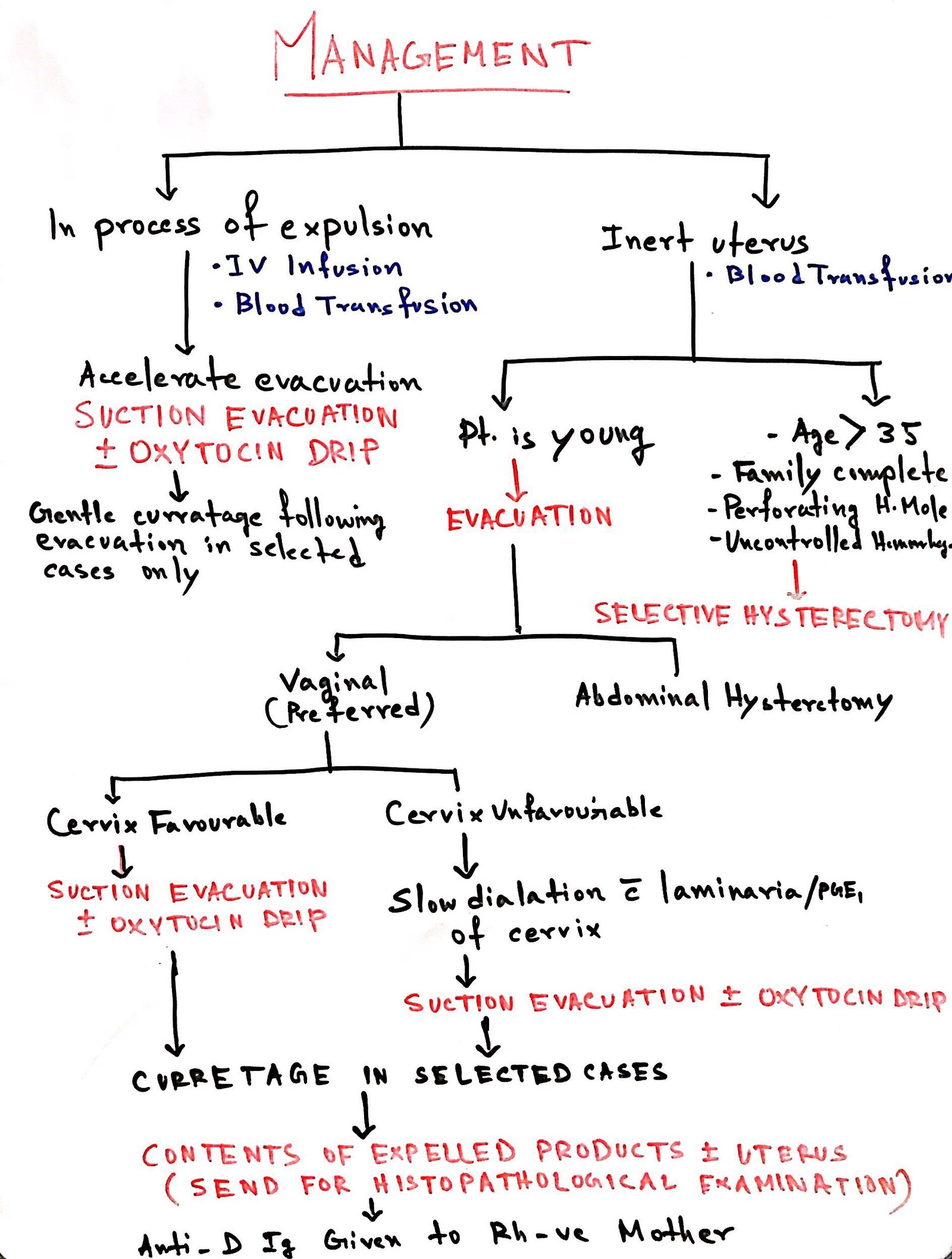 FOLLOW UP IN CASE OF MOLAR PREGNANCY –
The patient should be well counselled about the complication of molar pregnancy  and the associated risk factors along with the importance of follow up in these cases.
The disease is benign in 20-30% cases there is a chance of development of persistent trophoblastic disease which is considered malignant. The chances of choriocarcinoma is also high in these cases.
The tumor marker in this case is Beta-HCG. The first estimate should be done immediately at evacuation and then every week still it becomes negative. This usually regress within 3 months.

The patient is advised not to get pregnant during the whole period of follow up.
During each follow up each things has to be noted –
Enquiry about irregular vaginal bleeding, persistent cough, breathlessness or hemoptysis.
Involution of uterus, Ovarian size, Malignant deposit through abdominal examination.
(The lutein cyst usually regress within 2 months)
Investigations done are Urine/Serum HCG and CXR
Prophylactic chemotherapy –
Indications :
HCG Level fails to become normal by 12 weeks.
Reelevation at 4-8 weeks.
Rising Beta HCG after normalization.
Follow up is not possible duw to remote area.
Evidence of metastasis.
Treatment :
Methotrexate – 1 mg/kg/day IV + Folinic acid 0.1 mg/kg/day IM.
Contraceptions – like IUCD, OCP are contraindicated during this period.